July 2021
Planting in autumn 2021 and planning ahead
We've had a very successful autumn planting, getting in 476 plants. We are very grateful to everyone that helped – volunteers who did the planting, those that supplied us with planting materials and those that made donation so we could purchase the plants and other equipment. See the Home page for more information and photos.
Planning is underway for our autumn 2022 planting sessions – check here for more details early in 2022.
Predator trapping
Replacement predator traps, for those we lost in the October 2020 wildfire, have been ordered. We're working with DOC Twizel and our trapping volunteers to replace destroyed and damaged possum traps and to get our new traps installed, so we can continue our trapping projects. 32 possums have been caught in the eight months since the fire – they are still out there!
April 2021
186 plants in the ground on 24 April 2021
Great weather and 21 volunteers made short work on getting all 186 plants (beech trees, coprosma and snow tussocks) planted in the morning of 24 April at Poverty Point. We put the plants in the wire protectors around plants that were burnt in the Oct 2020 wildfire. We found some burnt plants sending up new shoots – so gave them some care as well! The auger was brilliant for digging holes for plants.
AGM for 2019/20 financial year
The Trust held the AGM on the 13 March 2021. The Annual Report and the unconfirmed minutes of the AGM for the 2019/20 year are available here.
Donation from Stihl New Zealand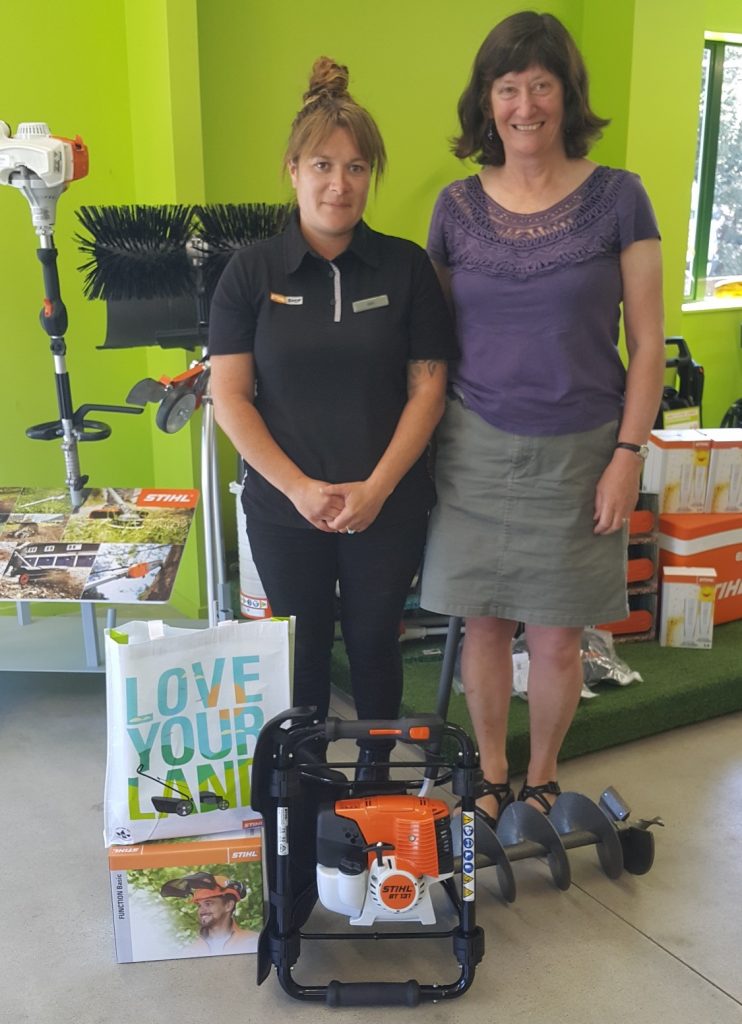 The Trust has received a very welcome donation from Stihl NZ – an earth auger. This allows us to dig holes with ease when we are planting native plants. We also received safety gear for those operating the auger, from the Stihl Shop Wanaka. We really appreciate this generous support from Stihl.
Jenna Scott, the Stihl Shop Wanaka and Viv Smith-Campbell, Chairperson of the Trust with the new earth auger and safety gear.
New native mistletoe/pikirangi information sign
The information sign about the prolific native mistletoe/pikirangi in our beech forests, has been installed at the bridge over Sawyers Creek on the A2O cycle trail. The sign provides information about the 3 types of mistletoe/pikirangi, how they grow on beech trees, the special relationship with korimako/bellbirds, the threat of possums and what the Trust is doing to protect the mistletoe/pikirangi and korimako/bellbirds.
Check it out when you next cycle or walk the A2O trail. Our special thanks the PureTrails New Zealand whose donation funding the sign.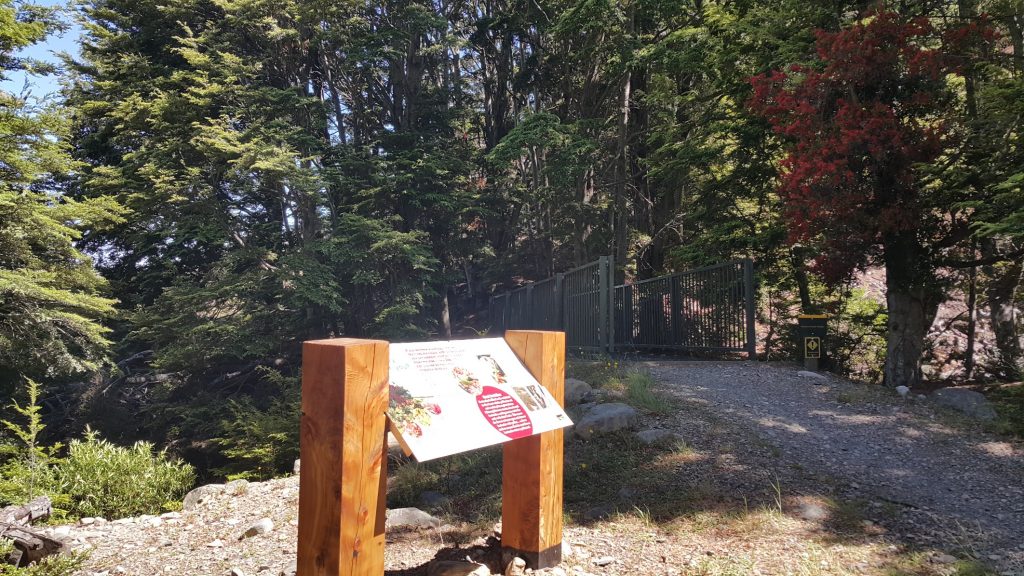 April 2021