27 and 28 April work session cancelled
All 147 beech trees are now planted so the next work sessions are cancelled. Thanks to all the volunteers who planted the remaining trees during the week.
Easter Saturday and Sunday beech tree planting
With around twenty adults and lots of keen children, we planted around 50 beech trees on Easter Saturday at the Aubrey Reserve and Poverty Point. Thanks so much for all those that helped, on what turned out to be a bright sunny day with some wind!
On Easter Sunday a small dedicated group turned up to plant in overcast and sometimes showery weather. At two locations up Lake Ōhau Road past the Parsons Creek bridge, 45 more beech trees were planted on the lake margin near a few very large and very old beech trees.
So that's 95 beech trees planted! We'll plant the remaining 52 trees on the weekend after ANZAC day (27 & 28 April). Details will be emailed to Trust supporters and posted on this webpage.
We really appreciate all the time and effort given by volunteers to do this planting. You will be able over time to see the small forests of beech trees growing along the lake margin and providing habitat for our precious native species.
Here's some of the volunteers with the newly planted beech trees.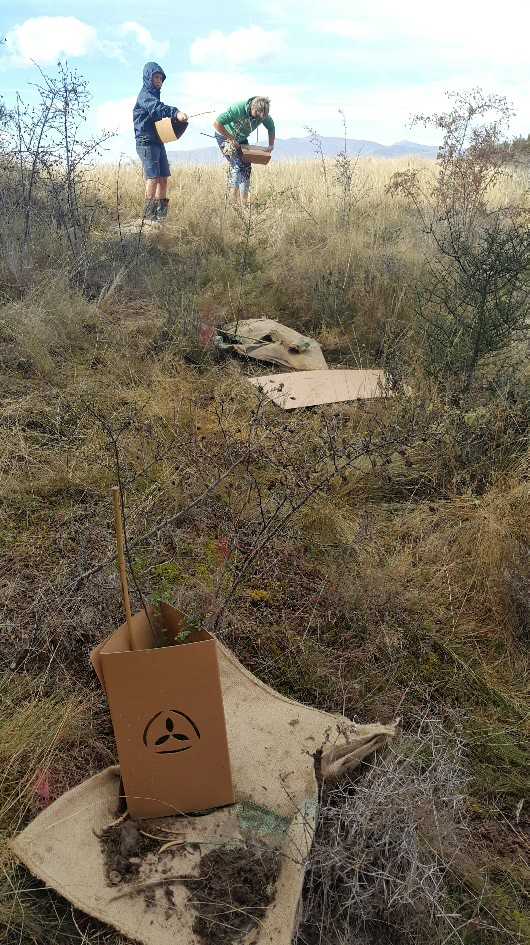 Working Session – Easter and Anzac – 10am-12 noon – Beech Tree Planting
Easter Saturday 20 and Sunday 21 April AND weekend after ANZAC day – Saturday 27 and Sunday 28 at 10am-12 noon
We've got around 150 beech seedlings to plant that the Trust has had grown by Motukarara Nursery from locally sourced seeds.
We will be planting at five locations along the lake shore – from Aubrey reserve opposite the Ōhau Village up Lake Ōhau Road to the last area opposite the grass airstrip. If we are not at the first site just drive along until you see the group.
Please bring any tools you may have that will be useful for digging/planting. Gloves will be provided.
Not to forget also plenty of water, hat and appropriate working attire, including sturdy footwear.