Birds are also benefiting from the Trust's most recent project, predator trapping. Ten child-proof and dog-proof humane, instant-kill traps placed unobtrusively along the lake shore caught nearly twenty ferrets, several stoats and a weasel in their first six weeks of operation in autumn. The traps are regularly patrolled by local volunteers.

Lake Ōhau's scarlet and red mistletoes have been spectacular this season. Most amazing has been to find mistletoe growing not only on the usual beech trees but also on matagouri and even a wild plum tree. The Trust's wilding pine removal work continues steadily. Hundreds of acres of tussock grasslands on the south western terraces above the lake have been cleared of these weeds, and now need only an occasional check for new seedlings, easily removed. Planting over the past three years of more than 3,000 native seedlings is complete, and two wet summers have insured that survival rates have been excellent. Visitors and residents alike will benefit in years to come from the sight of hundreds of flowering kowhai and hebes along the lake edge, and increasing bird life attracted by more berry-bearing shrubs.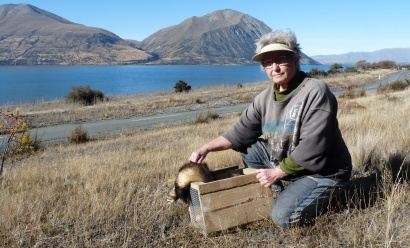 A large ferret is removed from one of the Trust's ten humane instant-kill traps on conservation land by Lake Ōhau. In the first 12 months after these predator traps were set out along a 5 km stretch of lake shore, 42 ferrets, four stoats and two weasels were caught. This must have saved the lives of numerous small birds and geckos.
The Trust's Annual General Meeting in October 2012 re-elected the Committee unchanged.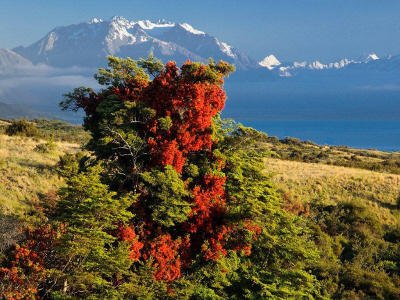 The Lake Ōhau valley has always been renowned for its scarlet and red mistletoes; it also nurtures the rarer yellow mistletoe. This beech tree and its colourful parasite was photographed in 2012 at Parsons Creek, looking up towards the Glen Mary Glacier at the head of Lake Ōhau. Aorkai/Mt Cook is visible far right. Photo courtesy Albert Aanensen, all rights reserved.