Cotoneaster eradication work
The Trust's work with the Department of Conservation, Environment Canterbury and Waitaki District Council to eradicate cotoneaster from around Lake Ōhau was reported in the Waitaki Herald on 30 August 2017 (https://www.neighbourly.co.nz/e-edition/waitaki-herald/21710).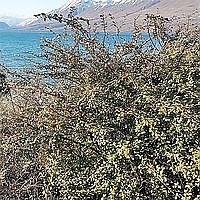 Cotoneaster is an evergreen small shrub or tree originating from China and the Himalayas. It over-tops and replaces native shrub species and prevents the establish of other native species. It has spread from domestic gardens around the lake. Contact the Trust to identify it, if you think you have it growing in your garden. The Trust is happy to suggest and supply an alternative native plant to replace cotoneaster removed from gardens around Lake Ōhau.